Heather Lloyd Scores First Hunter Tour Win

View photos from this stop!
Kevin and Gary Welling of G-Cue Billiards in Round Rock, Texas were exceptional hosts to the Hunter Classics Amateur Women's Tour's sixth stop of the 2006 season the weekend of July 15-16. At the last minute, Gary and Kevin stepped in and hosted the event when the previous location had to cancel. Thank you, Gary and Kevin!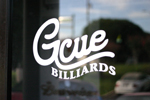 Forty-five ladies came to compete in the tournament and were ready to play for the top first place prize of $750 and also the WPBA Qualifier which was up for grabs for a WPBA 2007 event. On the beautiful fourteen 9-foot ball-return Brunswick tables, the ladies were out to battle and battle they did. They fought hard all day Saturday and when Saturday play was over, twelve players would return to continue the main event competition on Sunday. In the end, the 2006 Hunter Classic's Tour Most Improved Player, Heather Lloyd from Austin, Texas captured the title and the WPBA Qualifier. Heather exclaimed after the tournament, "I can't believe I won!" She was extremely happy and had a non-stop smile on her face as she hugged her husband, brother-in-law, and close friends. Being from Austin, there were a lot of friends watching and she said, "I have so much support from my husband and friends and it was nice to win a Hunter Classics Tour event in front of them."
On Sunday morning, the winner's side matches resulted with Cristina De La Garza defeating Deanna Henson hill-hill (both from Austin) while Jennifer Kraber from Austin lost 7-4 to San Antonio's Sophie Lopez. Sophie and Cristina then played the all important hot seat match and Sophie came out the winner 7-4. Then Sophie had to wait to see who her opponent would be in the finals.
9th-12th place finishers were Deedra Trammell (her highest Hunter tour finish ever), Sharon O'Hanlon, Melinda Hinojosa and Belinda Lee all who earned $80. 7th/8th places were filled by Leslie Anne Rogers and Kyu Yi who both earned $105, while 5th/6th places were filled by Jennifer Kraber and Deanna Henson who earned $150. Exceptional play was performed by everyone.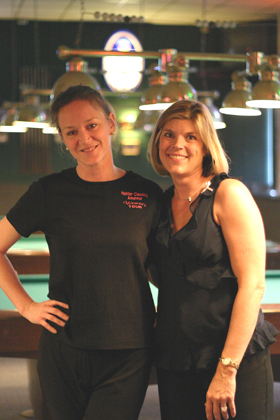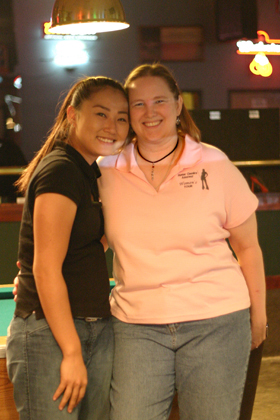 Jennifer Kraber and Deanna Henson (
5th/6th
)
and
Kyu Yi and Leslie Anne Rogers (
7th/8th
)
Each of the top 4 finishers of this tournament marked their highest finish to date on a Hunter Classics Tour event:
Terry Petrosino from Houston placed 4th and earned $225. Terry has been having a great year and she started this tournament by defeating two heavy hitters in a row on Saturday morning. She defeated Belinda Lee (7-6) and Leslie Anne Rogers (7-2) before being derailed to the one-loss side by board member Melinda Hinojosa (5-7). Then she defeated board member Monica Anderson (7-2) and the always tough Tara McCracken (7-3). When she returned on Sunday, Terry was still shooting awesome. She won a close one against Deedra Trammell (7-6), recent Fast Eddie's Tour event winner Kyu Yi (7-4) and sharp shooter Deanna Henson (7-4). Terry's run was stopped, though, by a determined Heather Lloyd (3-7).
Cristina De La Garza from Austin placed 3rd and earned $370 for her outstanding play. Cristina defeated Kat Asbury (7-3), Lisa Miranda (7-6), Tara McCracken (7-4), and Melinda Hinojosa (7-5) all on Saturday. Then she defeated Deanna Henson in a tight match 7-6 on Sunday. Cristina next ran into Sophie Lopez for the hot seat and was sent to the one-loss side 4-7. She then played eventual winner Heather Lloyd and lost 2-7 for a fantastic third place finish.
Sharp shooter and tough opponent Sophie Lopez placed 2nd and earned $550. Sophie has been having an awesome year by winning the 2006 BCA & ACS Texas Women's Singles championship and placing 3rd at the Women's Open Singles in Las Vegas. She competed in her first Hunter stop for this year and she was shooting her way to the finals. Sophie defeated Sherri A. Smith (7-4), Catherine Naes (7-4), Kawania Watson (7-2), Deedra Trammell (7-1), Jennifer Kraber (7-4) and Cristina De La Garza (7-4) before meeting up with Heather in the finals.

Sophie Lopez (2nd), Terry Petrosino (4th), Cristina De La Garza (3rd) and Heather Lloyd (1st)

Even eventual winner Heather Lloyd placed her highest finish yet. Heather has had three second place finishes on the Hunter Classics Tour in 2005 and no title, but by the end of this tournament, that would be old news. Heather started off with a bye, but lost her very first match to Deanna Henson (2-7). That loss didn't deter Heather and in front of her hometown crowd she was on a mission and surged through the one-loss side, defeating Nancy French (7-2), Snowy Belt (7-4), Melinda Hinojosa (7-4), Leslie Anne Rogers (7-4), Jennifer Kraber (7-5), Terry Petrosino (7-3), and Cristina De La Garza (7-2) to meet Sophie Lopez in the finals.
Heather would need to defeat Sophie two sets to win the tournament and the first place prize and the WBPA Qualifier which were both on the line. Tied at 3-3 in the first set, it looked like either player would win it, but Heather pulled ahead 7-5 to claim the first set to get even closer to the title. The second set wasn't as close and at 6-1, Sophie didn't give up and nailed a tough cut on the 9-ball to gain another game at 6-2. In the next game, Heather had a tricky 7, 8, and 9-ball left. Heather studied the thin shot on the 7-ball for a long time; maybe longer than any shot all weekend. She would get down, get back up. Look again, get back down, then get up. She had a very small window to just miss the 8-ball to get the 7-ball into the corner pocket, but once she committed to the shot, she made it look easy and nailed it. She then shot the 8-ball and 9-ball in the same corner pocket and won the second set 7-2! After a long run on the Hunter Classics tour, Heather won her very first tournament on the tour.
Heather exclaimed the next day from her cell phone, "I still can't believe it; I'm so excited. I struggled all day on Saturday and I usually get exhausted on the Sundays of my tournaments, but this time I remained calm and positive and focused on playing one ball at a time. It was great and very exciting." Heather has been working on relaxation techniques and focusing on a positive attitude. "I'm trying to work on being happy for me, happy for my opponent and living in the moment," said Heather. Heather went on to say she has been playing in a lot of back to back tournaments and maybe the frequent competitiveness helped her, as well. Heather added, "I pay the WPBA Qualifier fee just in case and this time it worked out."

Heather Lloyd
At the June Hunter Classics tournament, tour member Jillian Valles won the always beautiful $1,800 Hunter Classics Custom Cue and at this event in Round Rock, Texas, another tour member Melissa Khoung won the beautiful $1,800 Hunter Classics Custom Cue! Thanks to Shayla Neris, view the video of the drawing by clicking HERE (2 MB).

Other drawings included a pair of beautiful earrings from Cristina De La Garza and a drawing for someone's $30 entry fee free. Sue Chong won the beautiful earrings (thank you Cristina!) and Belinda Lee won a free entry fee into this event.
View numerous photos from this event HERE and also the updated point standings HERE.
A BIG, BIG thank you to Wes Hunter who has been sponsoring the Hunter Classics Tour for 13 years now! Thank you also to G-Cue Billiards, Royce Bunnell of the OB-1 Cue Shaft, and all the ladies who came to compete! Visit us next month at Legend's Billiards in League City, TX August 19-20!
Main Event, complete payouts, 45 ladies:
1st $750 + WPBA Qualifier, Heather Lloyd
2nd $550 Sophie Lopez
3rd $370 Cristina De La Garza
4th $225 Terry Petrosino
5th/6th $150 Deanna Henson and Jennifer Kraber
7th/8th $105 Kyu Yi and Leslie Anne Rogers
9th-12th $80 Melinda Hinojosa, Belinda Lee, Sharon O'Hanlon, and Deedra Trammell
13th-16th $50 Tara McCracken, Sherri L. Smith, Kim Pierce, and Snowy Belt.
17th-24th $25 Michelle Ram, Monica Anderson, Nico Adams, Jillian Valles, Melissa Khoung, Annie Doyle, Marie Sosa, and Kawania Watson.
Second Chance Tournament, 25 ladies:
1st $125 Tara McCracken
2nd $90 Kim Pierce
3rd $60 Jillian Valles
4th $45 Annie Doyle
5th/6th $20 Kathy Knuth and Michelle Ram