Food available at the pool room, so please don't bring in food or drinks from the outside.

Doors open at 9am!

12 8-foot tables and five 9-foot tables

.

Double Elimination, Race to 7, and alternate break throughout the tournament.

Non-Smoking by players during matches only. One break per person per match.




Must be present for Player's Meeting – 10:00 a.m. Saturday.


First Round starts shortly after Player's Meeting.

Is this your first event?

Find answers in our Frequently Asked Questions section at

structure.html.

Embroidered shirts

will be available.

Bring your hotel samples for the women shelters of the DFW area.

No

T-shirts or shorts are allowed for main event and second chance tournament

. See further info on the

dress code

.

$2,000 guaranteed added!

$750 guaranteed 1st prize money

100% payback with a third to a half of the field paid every time.

Second Chance tournament on Sunday with at least $200 added.

Plenty of action, fun and good times.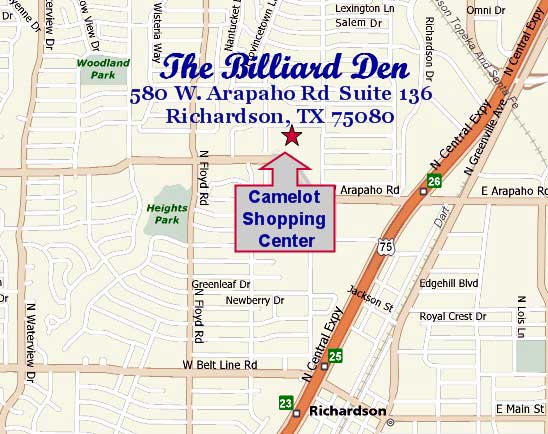 Hunter Classics Annual Membership Fee:
$20
*Bring a new member and receive $5 off your Entry Fee!
*Bring three new members to a stop and get your Entry Fee FREE!
$25 WPBA Amateur Dues (if required).

Optional
$20 Fee to be eligible to win
WPBA Qualifier for 2008 event.
WPBA Touring Pros are not eligible to play.
The Hunter Classics Tour is a stepping stone to the WPBA, please help the Tour and its sponsors by dressing appropriately. Please follow the Hunter Classics Tour Dress Code:
All players are required to be in dress code throughout the main event and second chance event.
Unlike other regional tours, jeans and sneakers are allowed on the Hunter Classics Tour! Collared shirts or blouses are welcome.

However, no T-shirts, tank tops, flip flops (the rubber like ones that you would wear on the beach and don't mind getting sand in them) , sweats (including sweat pants or sweat shirts or parachute sweat suits) or torn clothing/shoes. No shorts, halter tops, or revealing clothing. Clothes must be neat and clean. No blatant show of cleavage or midriff skin, including when bending over the pool table. Sleeveless tops are allowable, but bra straps must be covered.
The Hunter Classic Tour Board members reserve the right to determine if clothing meets the dresscode.

Ladies - if in doubt, please lean toward the conservative side.
Radisson Hotel Richardson

Address:

Address:

Address:

Courtyard by Marriott: Spring Valley


Address:

Courtyard by Marriott: Campbell

Address: